The world's pollinators, such as bees, butterflies, and beetles, are essential cornerstones of our ecosystem. Facing survival challenges due to climate change and the dwindling of flowering habitats, these diligent pollinators are indispensable as they contribute to the pollination of nearly 75% of all agricultural crops, playing a crucial role in global food production and nourishment.
We partnered up with juice- and smoothie brand Innocent, to spread the word about the critical role of pollinators and the importance of safeguarding them. We initiated a creative project in Stockholm, focused on bolstering biodiversity and improving the conditions for these important insects.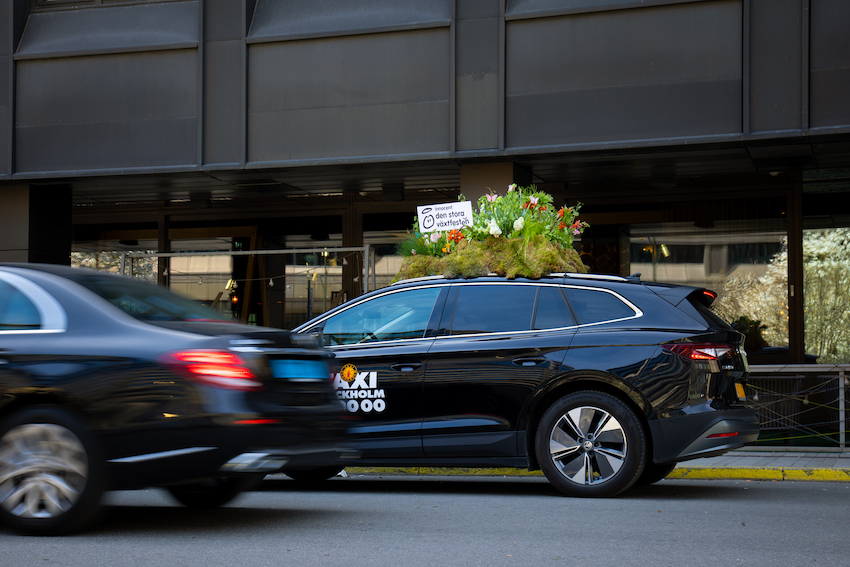 Considering that pollinators surprisingly flourish in urban environments, owing to the rich biological diversity that cities inadvertently provide, we transformed Taxi Stockholm's electric vehicles into mobile gardens. Adorning the taxis' rooftops with a mix of plants and flowers, this creative endeavor brought the thriving green essence of nature to the very heart of the city, mitigating the effects of urban density on the pollinators' habitats.
The Taxi Gardens made their debut across Stockholm on May 27th and 28th, 2023, and received widespread acclaim. They were celebrated in prominent publications such as Resumé, Mitt i Stockholm and the international publication Ad Age.
The project of the Taxi Gardens was a complement to another initiative in Hagaparken, where Innocent, together with the non-profit organization Ekoparken, installed floating islands. These floating oases serve as natural bridges and enable pollinators to move across the water – which they typically avoid. The islands do not only create more green spaces in the park, but also connect the existing ones, to enhance the pollination on both sides of the water.